WELCOME TALL FRIENDS!

The Tall Club of Toronto is a non profit organization, where tall men and women meet and socialize with other tall people in Toronto and the GTA. Members find many new friends and often, a significant other through the Club.  While most members are single, we do not limit membership and couples are welcome.  The Tall Club of Toronto is a member of Tall Clubs International (TCI). TCI's purpose is to provide a social organization for adults of above average height to promote tall awareness, and to provide the opportunity for social contact not to be found elsewhere. There are over 50 Tall Clubs in North America. Most major cities have a Tall Club. As a member of the Tall Club of Toronto you are entitled to join any of those Clubs' events when you travel or visit their city.  Find out more about us here.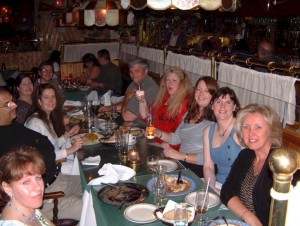 Join Us
To apply for membership, you must meet the following requirements:
Minimum Age: 21              Minimum Height: Women 5'10″ (178cm) Men 6'2″ (188cm)
For more information, visit our "Join Us" page.
Sign up and check out our new MEETUP group for event information. The Tall Club of Toronto is now using Meetup for our events calendar.  Please join Meetup.com, then our group.  We can also be found on Facebook, but it is not updated regularly.

[E-mail obfuscation, courtesy of Tim Williams.]